Esquires' Pumpkin Spice Latte – Graphic Design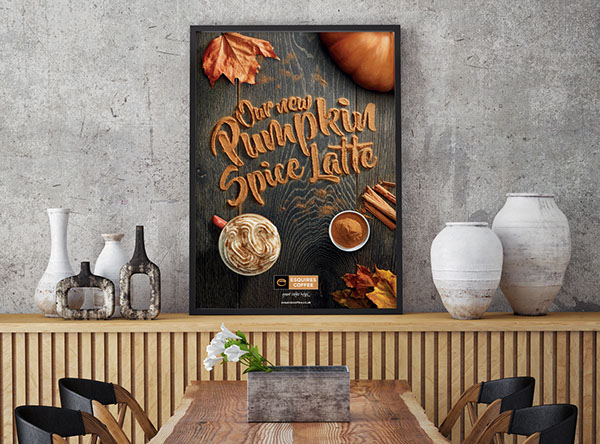 abduzeedo
Oct 07, 2016
Esquires' Pumpkin Spice Latte is a graphic design project art directed by Daniel Coleman. The cool thing about this project and the reason we are featuring here is due to the analog process behind it. In this day and age where everything is done in Photoshop or is CGI it's nice to see things being done with real materials, like for the typography part, Daniel used cinnamon. For more details check out the images after the break
Project description
Esquires' Pumpkin Spice Latte is the coffee chain's hero product for Autumn 2016. Go Creative were asked to produce a key visual that captured the Esquires brand points of being artisan and handmade, whilst conveying the products ingredients as authentic (and not just a syrup shot).
We designed a visual that captured those standpoints, with a particular focus on the authentic ingredients. By creating the type out of cinnamon, we could emphasise the flavour in the latte. To further set the mood, we added leaves and key ingredients around the typography.
Graphic design process
Daniel Coleman is a graphic designer from Oxford, UX. He is working under Magnet Harlequin's  creative umbrella, Go Creative. He produces motion, graphic and web design for a variety of national and internation brands including M&S, LG, Costa Coffee and Heinz.