Illustration Process: I Lift My Lamp Beside the Golden Door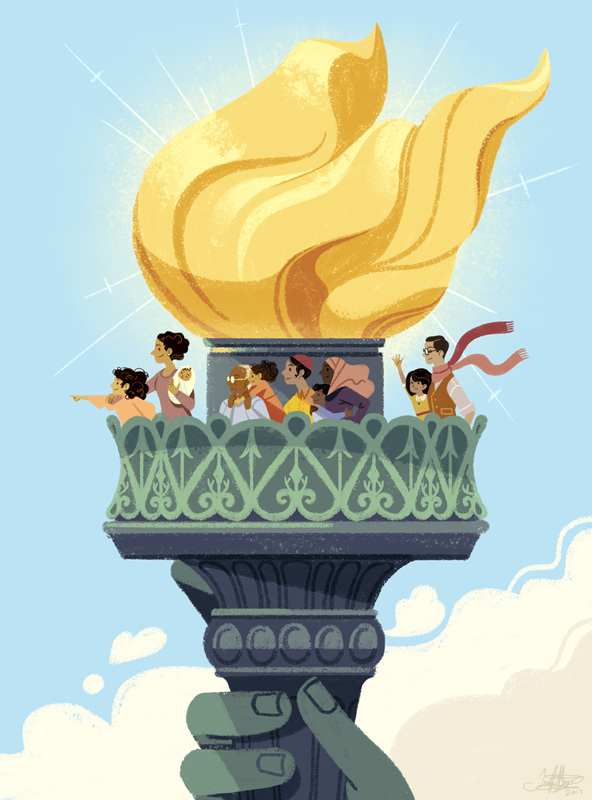 abduzeedo
Feb 03, 2017
I Lift My Lamp Beside the Golden Door is an illustration created by Jennifer Hom. She was very kind to share with us a little bit of her illustration process from the main goal of the project, to sketches to the final design. It's always wonderful to see that step by step, especially from an incredible illustrator like Jennifer. I hope you enjoy it and make sure to get one of the prints at: http://jenniferhom.bigcartel.com/product/i-lift-my-lamp-beside-the-golden-door
Illustration Process by Jennifer Home
Through all the changes in America over the last several weeks, it is clear that the country needs to remain true to our spirit. Immigration is the heart of this land and I wanted to do what little I can to protect it. What started as a way cope turned into something that I hope will help support the American Civil Liberties Union. I will donate all profits from the sale of this piece to the ACLU.
Sketches
Like all my concept sketches, this is a nearly indecipherable color pencil drawing. I knew I wanted to feature the Statue of Liberty because of my own mother's love for it.
Tightening up the sketch to a line drawing in Photoshop, I started to give the people in the torch a little more character. I even drew in some personal loved ones who immigrated to America.
Adding color was simple enough considering I had to stick to the statue's iconic oxidized copper hues. The final stage was tedious and obsessive color correction.
I hope this inspires others to make a united contribution bigger than our individual means.
-Jennifer Hom
Jennifer Hom began life as a Chinese American girl in suburban Long Island, New York. As a minority with few friends, she found happiness in drawing fairies, unicorns, magical flying unicorns, princesses, and flowers. With the help of a terribly optimistic mother, she used her countless drawings of magical beings to enroll at the Rhode Island School of Design. Now graduated with a BFA in illustration, a grad degree in doodling at Google, and a gig at Uber, she managed to find a home with climate control. She is still Chinese American, but wants to be a Broadway star.
For more information about Jennifer check out her website at http://jenniferhom.com/