The Perfect Office – Google Jamboard, Apple Macbook Pro, Microsoft Surface Studio PC and Office Ideas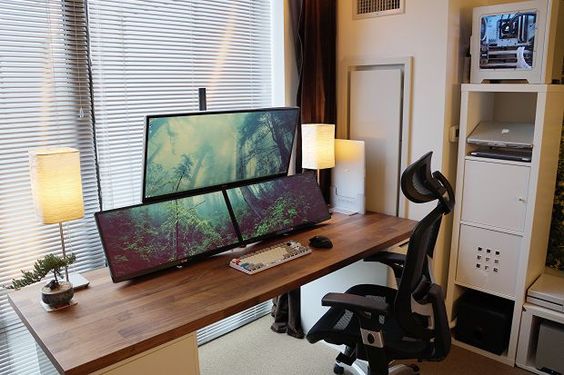 PauloGabriel
Nov 01, 2016
We've seen some great gadgets and equipment for designers. So many cool stuff, that we could actually assemble infinite perfect office spaces! Every week we'll assemble a perfect office, and we'd like you to help us. What equipment would the perfect office have?
There were some huge announcements this past week. Google has revealed its Jamboard, an amazing smart collaboration space, perfect for creative teams. Apple has announced the new Macbook Pro, with some new features. Microsoft has shocked us all with the brand new Surface Studio PC. But there's more!
Thanks to our sponsor, Gadget Flow. A product discovery platform that helps you save and buy awesome products with 12 new additions every day.
Felix Gray Computer Glasses
Staring at a computer screen all day is bad for your eyes. Unfortunately, many of us don't have a choice. Felix Gray Computer Glasses can help you make the best of the situation. They combat eyestrain on multiple fronts, with slight magnification that reduces the load on your ciliary muscle, a glare reduction coating, and a filter that keeps out the most damaging wavelengths of blue light. Available in multiple frame sizes and styles to match any face shape, size, and personal style. (at Office Ideas!)
WD 4TB Black My Passport Portable External HD
Auto backup with included WD Backup software, password protection with hardware encryption, reimagined design, trusted drive built with WD reliability, USB 3.0 port.(at 7 Gadgets)
Google Jamboard – Smart Collaboration Space
The newest addition to G Suite, Jamboard merges the worlds of physical and digital creativity. It's real time collaboration on a brilliant scale, whether your team is together in the conference room or spread all over the world. This 55-inch 4K screen will make it easy for teams to make those meetings more productive and smarter in the long run. The Jamboard comes in multiple colors and is designed to be movable with an integrated stand, wheels, and single-cable setup. A built-in HD camera, speakers, and Wi-Fi allows for video conferencing and broadcasting through Hangouts. It can also be mounted on a wall and features pen and eraser holders underneath. (at The Gadget Flow)
Apple Macbook Pro
It's been years since Apple redesigned the MacBook Pro. They've used the time wisely. The new Apple MacBook Pro is thinner, lighter, and smaller than the previous generation. The display comes in 13- and 15-inch varieties, and is brighter, has greater contrast, and displays more colors than before. Open it up, and you'll find a Force Touch trackpad that's twice as large, an all-new keyboard, and, most noticeably, the Touch Bar. It's a multi-touch display that replaces the function keys, dynamically changing depending on what you're doing, with a Touch ID-enabled power button hidden on the far-right side. (at Uncrate)
Microsoft Surface Studio PC
For their first desktop PC, Microsoft didn't just emulate the top-selling iMac. It made a more creative version. Dubbed the Microsoft Surface Studio, its signature feature is its 28-inch PixelSense Display that boasts 13.5 million pixels and is mounted to a pair of arms that let it lower and rotate backward, becoming a giant drawing pad for the Surface Pen and new Surface Dial. Otherwise the specs are much what you'd expect, with with bottom case housing an Intel Core i5 or i7 processor, an Nvidia GeForce GPU, and up to 32GB of RAM to keep those creative apps humming. (at Uncrate)
Office Ideas!
Here are some office ideas for you! How do you like these? Don't forget that you may suggest gadgets or ideas via twitter: @paulogabriel – I hope you enjoy these! Cheers. 😉